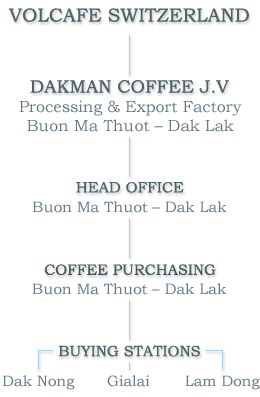 DAKMAN is a key member of Volcafe, the coffee division of ED&F MAN Group.

DAKMAN is proud to be implementing ISO 9001: 2008 at the end of 2011. The system is designed to organise, control and improve techniques, practices, efficiency and the working environment at all levels of production, export and trade.
DAKMAN was founded in 1995 as the first foreign invested joint venture company licensed by the Vietnamese goverment to process and export robusta coffee from Vietnam. We are a partnership between E.D.&F.Man Coffee, a leading international trade house and Daklak September 2nd Import-Export Company Limited (Simexco Daklak), a state-owned company recognised as one of the leading Vietnam coffee exporters.

DAKMAN is located in Buon Ma Thuot City, the capital of Daklak Province and the center of the main coffee growing region of the Central Highlands of Vietnam. Through a network of 35 collecting stations, we select and purchase robusta coffee directly from local farmers through to the shipping container.
Our modern processing line, including the latest colour sorting technology, enables us to produce coffee of the highest standard and ensure a uniform consistent quality for our buyers.
A high degree of processing flexibility also allows us to prepare coffee directly to customer specifications. Our products range from standard Grade 2 through to bold bean, polished types with no black beans, broken beans or foreign matter.
Combining international expertise with local know-how, DAKMAN's objective is to ensure that the trust placed upon ourselves, by our clients and local suppliers alike, serves as the core of our commitment to customer satisfaction.
Daklak, otherwise known as the Capital of Coffee is home to our processing plant, devoted to producing the highest quality coffees, committed to the highest standards of workmanship to provide you with coffee to be proud of.
Our sustainability certifications, farmer training and project work reflect our true sense of responsibility to encourage, promote and insist upon sustainable & sensible farming.